Nam venenatis commodo odio sit amet facilisis. Quisque semper aliquam erat, sed suscipit est elementum sit amet. Aliquam lacinia a nibh et pretium. Fusce dictum ultrices dolor quis molestie. Nulla facilisi. Vestibulum lobortis lorem ipsum, rutrum scelerisque dui rutrum ac. Fusce tincidunt, nisl vitae
Nam venenatis commodo odio sit amet facilisis. Quisque semper aliquam erat, sed suscipit est elementum sit amet. Aliquam lacinia a nibh et pretium. Fusce dictum ultrices dolor quis molestie. Nulla facilisi. Vestibulum lobortis lorem ipsum, rutrum scelerisque dui rutrum ac. Fusce tincidunt, nisl vitae
Nam venenatis commodo odio sit amet facilisis. Quisque semper aliquam erat, sed suscipit est elementum sit amet. Aliquam lacinia a nibh et pretium. Fusce dictum ultrices dolor quis molestie. Nulla facilisi. Vestibulum lobortis lorem ipsum, rutrum scelerisque dui rutrum ac. Fusce tincidunt, nisl vitae

I taste like Bread.

I am a staple in almost everyone's diet. Friends like me are a complement to any other friends I get on with almost everyone, remaining mostly in the background, but providing substance when it would otherwise be lacking. What Flavour Are You?
This page is protected by a
CAT
Cats are believed to be the only mammals who don't taste sweetness.
Want your own? Visit hekate.neocities.org!
Find out which Winnie the Pooh Character you are @ star-girl.org!
you are lavender
#E6E6FA

Your dominant hue is blue, making you a good friend who people love and trust. You're good in social situations and want to fit in. Just be careful not to compromise who you are to make them happy.

Your saturation level is very low - you have better things to do than jump headfirst into every little project. You make sure your actions are going to really accomplish something before you start because you hate wasting energy making everyone else think you're working.

Your outlook on life is bright. You see good things in situations where others may not be able to, and it frustrates you to see them get down on everything.

the spacefem.com html color quiz
What K-ON! Band Character Are You?
Hosted By theOtaku.com:
Anime
What Sonic-X Character Are You?
Hosted By theOtaku.com:
Anime
You were born during a Waxing Gibbous moon
This phase occurs right before a full moon.
- what it says about you -
You like to question things and have issues settled before going to work on a problem. You appreciate art, elegant forms, and efficient designs. You seek deeper meanings in things that you see and want your actions to make the world a better place.
What phase was the moon at on your birthday? Find out at Spacefem.com
What Lucky Star Character Are You?
Hosted By theOtaku.com:
Anime
I am a Sensible Dreamer Moonlight Cookie.
Dreaming Moonlight Cookie is sensible yet silent. She does not reveal herself easily nor express her inner emotions.
You fall deep into your thoughts, this may be why people have difficulty approaching you. But deep down, you have the warmest heart.
Which Hatsune Miku Nendoroid Model Are You?
Hosted By theOtaku.com:
Anime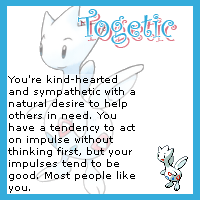 Find out what flavour ice cream you are @ star-girl.org!
Find out which Simpson you are at star-girl.org!